Vacancies
SA Goodnews
Updates



Home
Welcome to the South African Embassy Bangkok Information Portal
Welcome to the South African Embassy in Bangkok's Information Portal, your gateway to news and information about South Africa and South African-Thai interaction. It is designed to provide South Africans, Thais, and other nationals with a vast array of information on South Africa. Our Service Charter outlines the Embassy's wide range of services.

Whether your curiosity about South Africa is based on your plans as a tourist, an investor, an international student, or you are just someone who is curious about our country, you are sure to find what you need by navigating this site, contacting the Embassy by phone or email, or stopping by our offices.

Welcome to South Africa

President Cyril Ramaphosa


"Our vision is for an economy that encourages and welcomes investment, rather than one that chases it away. As we stand here, we say South Africa is open for investment. We invite everyone to come and invest here, so we can end poverty, create jobs, beat inequality, and do it by increasing the number of people involved."

From the Desk of The President, 28 March 2022



(Select the images to view - From the Desk of The President, 28 March 2022)


Ubuntu NewsFlash Issue 515 of 25 March 2022



(Select the image to view - NewsFlash Issue 515 of 25 March 2022)

Arrival of visitors from African countries under the sandbox scheme

The Ministry of Foreign Affairs has announced that visitors leaving from African countries can register for the Thailand Pass to enter Thailand under the Sandbox scheme from 11 January 2022.
Read more

Thailand Is Fully Open to Travelers with No Entry Restrictions:
Thailand is now fully open to travelers with no entry restrictions, as COVID-19 has been reclassified from a "dangerous infectious disease" to an "infectious disease under watch."

Deputy Government Spokesperson, Rachada Dhnadirek said that, starting from 1 October 2022, visitors to Thailand do not need to show documents concerning COVID-19, such as a proof of COVID-19 vaccination or results of COVID-19 tests.

The Ministry of Public Health has also scrapped "Thai Chana," a COVID-19 tracing mobile application for tourist arrivals. Moreover, all information in the tracing system will be destroyed, based on information safety standards.

Ms Rachada said that the Government would continue to closely monitor the COVID-19 situation. It stressed that a COVID-19 vaccine booster is necessary, as it would reduce the risk of severe complications. Therefore, people should receive a booster dose and continue protective measures, such as keeping a physical distance of at least one meter from other people and wearing a face mask in congested areas.

She said that the Government has acquired three million doses of Pfizer vaccine for children aged between six months and four years. The vaccine is expected to arrive in Thailand and to be distributed to children throughout the country in the second half of October 2022.

Meanwhile, Permanent Secretary for Public Health, Opas Kankawinpong, cited the COVID-19 situation as a lesson for public health management in Thailand. People have become more aware of health care and have given good cooperation in fighting the COVID-19 crisis over the very difficult period.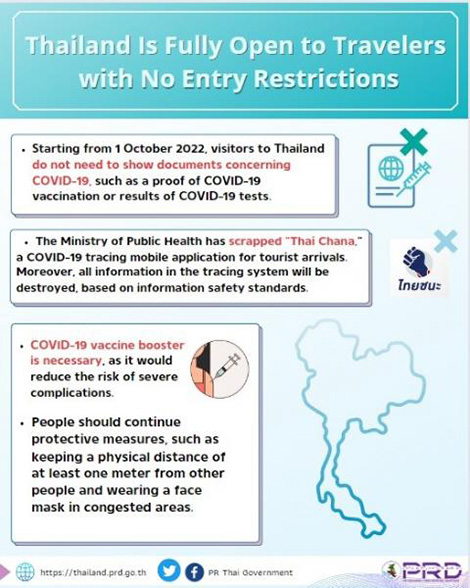 South Africa's response to travel restrictions imposed by several countries

The South African Government has noted the announcements by several countries to institute temporary travel restrictions on South Africa and other countries in our region.

This follows the detection of the new Omicron variant.

South Africa aligns itself with the World Health Organisation's position on the latest travel bans.

Africa Month 2022:

The month of May is recognised as Africa month – a time when the continent of Africa commemorates the founding of the Organisation of African Unity (OAU), established in 1963.

The African continent became a pioneer in being the first continent to focus on continental unity and to encourage nation building through unity and freedom from oppression. It is in celebration of this milestone of the OAU and its successor, the African Union, that Government will host a series of events to celebrate Africa Day on 25th May and throughout May for Africa Month.

Adjusted Alert Level 1 COVID-19 Regulations

South Africa remains on Alert Level 1



SA's Economic Situation

South Africa remains open for business government working together with business and labour is doing to ensure an improved economic outlook and nurturing for a higher economic growth trajectory. South Africa has a stable and predictable macroeconomic framework which continues to underpin economic policy.

SA has plans to transform the economy to ensure that its citizens enter new jobs and benefit from the new investments attracted in partnership with business and organised labour.

14 Actions to boost investor confidence have been developed in 2017 with specific deadlines with deliverables including to ensure continuity of fiscal consolidation trajectory and the funding and broader reforms in the areas of governance and private sector participation in SOEs as well as finalising outstanding legislation and policy positions to enhance investor confidence.
H.E. Mr. Darkey Ephraim Africa
Ambassador